Christina Graves (Nee Mathieson)
Born: 12th March 1895 at Prestonpans, Scotland .
Died: 24th August 1989, aged 94, at The Old Rectory, Tenbury.
My family and friends feel that I ought to leave a record of my life. As I am now 84 years of age my memory is not as accurate as it was but I will do my best.
Beginning with my parents, Jessie and Alexander Mathieson. My mother was born in at Canisbay (Caithness) and my father at Freswick, adjoining villages near Castle of May. Father's mother lost her husband and two of the family through a fever. Father went to school till he was 10 years old and then was hired out to a farmer. When they got married my parents went to Quendale, Shetland, to work on a farm. They had eight children, but two of my brothers died in consecutive years aged 3 ½ and 4 and they decided to leave Shetland where they had made many friends.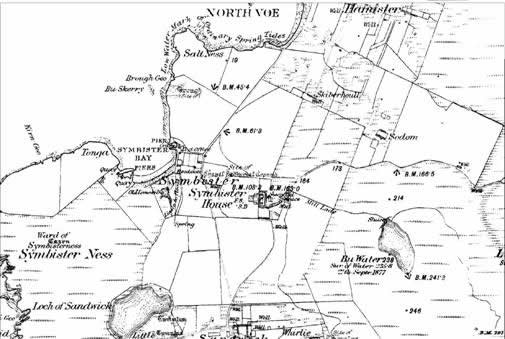 Symbister, Shetland c1877         
Lerwick, Shetland c1877. Quendale House, 31 Commercial Street, Lerwick. ZE1 0AN
Alex Mathieson's contract from Symbister, Shetland.
Alex Mathieson's Testimonial from Symbister, Shetland.
.
Alex Mathieson's Testimonial from Quendale House, Lerwick, Shetland.
Old Canisbay Kirk and graveyard
They heard from mother's sister aunt Betsy, that there was a contractor's business on the market at Prestonpans, near Edinburgh, and decided to buy it. They sailed to Leith and my eldest brother- Jim- then 13 years old walked with the cow to Prestonpans. Father was the carrier between Prestonpans and Edinburgh and used to tell us tales about the lodging houses in grass market where tramps resided but in dreadful conditions. Our home, Old Cuthill, was built on a rook overlooking the Firth of Forth with a small yard and a bulwark at the back. On a few occasions the waves would come over the house into the kitchen and I can remember sitting on a table with my younger brother watching the grown ups baling out. I was born on 12th March 1895 and mother said I arrived in a snow storm and it was up to the top of the door. David was born 3 years later, then John who only lived 6 months.
Cuthill, Prestonpans.
A postcard from Dunn's, Cuthill, Prestonpans.
Jessie, Maggie and Christina.       
Fanny Begg, Alex  Begg, David Mathieson and Christina Mathieson (c1901).
I went to Prestonpans school until a school was built at Cuthill almost next to our house. Then I finished at Prestonpans when I was 14. My father insisted that I was to get further schooling so I went to Musselburgh Grammar School and stayed till I was 16. From there I took a secretarial course in Edinburgh. I worked in an Edinburgh office for 2 years and then went to Glasgow to stay with my mother's sister- Fanny.
Our house- Old Cuthill- faced miners' rows, Front Street, Middle Street and Back Street. In front Street was a Ship's chandler and grocery shop and post office belonging to Williamina Dunn. On the Prestonpans side was Summerlee Street and the Mission Hall. Opposite the school was The Old Whale Inn, where we bought pluff- a kind of sugar candy. It was very dark inside and the woman was old and wore slippers, not too clean! There was a harbour Morrisons Haven near Prestongrange colliery and brick works and boats come in from abroad.
Prestongrange House belonged to Lady Susan Grant Suttie. She was a daughter of the Duke of Roxburgh and was looked up to by all the villagers. Her son was mentally handicapped and I never remember seeing him as he was away in a home. There were 3 daughters, one married the Auld Kirk Minister- Geordie Smith, one the Earl of Stair and one Sir Duff Cooper. Mrs Smith died leaving two little girls and they lived with Lady Susan. It was a wonderful sight to see them driving out it their carriage dressed in cream coloured highland cloaks.
My family were friendly with the Coachman's family- the Mitchells and as we had an allotment on the estate we children had access to the grounds and in the spring spent hours picking primroses and bluebells.
We used to go to school with bare feet in the summer and walk home along the shore. All the big rocks had names. We went bathing just behind the house in the morning and then had a run and chittery bite!
Prestonpans was a busy little town with Soap Works, Salt Works (the salt was collected in pans, hence the name) Rope Works, Brewery, Prestongrange Coal Mine, Brick Works and Pottery.
There was a smugglers' tunnel from Preston Cross down to the shore and one was found underneath our stables in perfect condition.
My father went out fishing in a small boat one evening with Mr Black and when they failed to return we were all very worried. They ran into a gale and sheltered at May Island and got back safely the next day.
We had friends in Edinburgh the MacIntoshs, who had a barbers shop near Holyrood House. They used to camp out every summer at Port Seton and we loved to walk down and see them. Once my sister Jessie and I stayed the night and it was a great experience. Mr MacIntosh was a Harry Lander fan and sang many of his songs. He and the family went to America where he did a lot of entertaining.
Prestonpans School c1902. Christina Mathieson back row, 5th from the left.
Christina Mathieson (back row lhs) at Musselburgh Grammar School
I went to Glasgow in 1915 and work with the Grant Educational Co. in Union Street as Mr Grant's secretary. I left there to go to the North British Railway, Chief Goods Manager's Office, as the male staff were being called up for the war. The railway men went on strike for more money so we had a rise. In those days a strike was seldom heard of and not very popular because our soldiers were fighting for their country for much less money.
At the end of the war in 1918 I can remember seeing the crowds gather in George Square and everyone excited, singing and dancing. We were told to go home and business was at a standstill for the day.
            Auntie Teeny, Alex Begg and Jessie Mathieson. C1901.
Jessie & Alex Mathieson at Cuthill.
Maggie Mathieson & Maggie Baikie
                                                                              Jessie Mathieson's sister (Maggie Dunnett) and Mother                                                                    
Jessie and Alex Mathieson.
From left to right: Marion, ?, Jessie, ?, Maggie, Jim and  Jessie.
Jim
Mathieson

(Brother)
     David Mathieson (Brother).
When the men started coming back it was time to move and I got a situation with a firm of Tanners. My sister and her husband went out to Kenya in 1918 to a country club near Nairobi and my sister worked for Newland, Tarlton and Co. Safari outfitters. She let her house in Glasgow to a friend and then decided to come home and settle her affairs. The asked if she knew anyone who would take her job and the outcome was they called me and I was booked to sail on the " Llanstephen Castle" three weeks later, all expenses paid and a 3 year contract at £4 a week which was quite a good salary in those days.
It was a great experience for me as I had only paid a visit to London once and otherwise never been out of Scotland . We passed through the Suez Canal during the night and could see people walking about and lights from the houses. It was very hot and most of us slept on deck. There was some of the cast of "Maid of the Mountains" on board and they entertained with songs from the show. The ports were very interesting, Port Said with the big store Simon Arty who sold lots of trophies and gifts made in Birmingham. Port Suez and then on to the Red Sea and Mombasa, where we got the train to Nairobi. I travelled in the carriage with Gen. Aushinleck's daughters, who were going up country.
Christina in Kenya.
My sister and brother in law met me at Nairobi station and took me to their home up on the hill near Kilimani. It was all so exciting and interesting and I loved the country. Each house had one miposhi (cook), kitchen boy, house boy and shamba boy and they lived in huts in the compound. I loved my job as Major Newland's secretary. The firm were safari outfitters and employed white hunters, had a gun department and auctioneering department. Met the most interesting people including the Crown Prince of Sweden. Sometimes I went out to Major Newland's house to take down letters. He was an Australian and one of the early settlers who came to East Africa before Nairobi was built. Unfortunately the firm went bankrupt in 1923 and I went to work for the Anglo Baltic Timber Co. One dry season we had lions coming in to the town and the streets were strewn with bodies of animals they had killed. The governor kept a private zoo in the government house grounds and the lions would frequently come in from the surrounding forests and prowl round. I was staying with a friend- Mrs Bird- whose husband was the Governor's secretary and they had gone to India on business. Mrs Bird and I walked into the dining room for breakfast and the boy was bringing it in from the outside kitchen when a cheetah walked up the steps. We beat a hasty retreat into the bedroom and the boy dropped the tray and ran. The cheetah walked out again and was caught in the grounds.
Lionel Graves in East Africa.
I met my husband to be in 1922 at a dance at the New Stanley Hotel but we only met occasionally for about a year. He was a post master stationed at Nairobi. We saw more of each other as time went on and then he was transferred to Eldoretl. I then got a job with Hon. A. C. Hoey an estate agent in his Eldoret office. His wife was one of the Wright family of Wright's coal tar soap. I met some very nice people who lived on the plateau, a Dutch family called Van Ryneveld who had a farm and we used to go for weekends and played tennis. They sent me back one morning on an ox wagon and I was thrilled. I stayed in a boarding house and we were like a big happy family. One of the boys was Dutch- Lewis Dawson- and his family lived out in the forest a few miles from Eldoret, they kept baboons and one weekend we were out there and the animals sat up on the rafters watching us eating and would suddenly jump on someone's shoulders. When I was in Nairobi I went with a friend to stay with people near Tsavo. They lived in a big hut and Mr Harris was a Game Warden. Mrs Harris told us she had heard a noise one evening out among the cattle and she went out with a lantern and put her hand on a lion's head. We sat outside in the evenings round a big camp fire. The noise of the crickets at night always intrigued me.
We became engaged and arrange to get married at Nairobi on 1st August 1925 and then go home for our honeymoon as my husband to be had six months leave. We were married at St. Andrews Church, Nairobi and the football team from Eldoret, of which my husband was a member, came to the wedding. They had a football match in the afternoon and wanted Lion to play but my sister thought it was wrong. He might as well have gone as we all waited to hear the result of the match.
Lionel Graves and Christina Mathieson's wedding in Nairobi on 1st August 1925.
Our first night we spent at Ruiru where we stayed a few days and then returned to Nairobi as Lion was playing football. We dined with the team at the New Stanley and I was the only female. We spent a few days at Mombasa waiting for the boat. My husband won a few prizes in the sports on board ship and at the presentation it was remarked that we were a honeymoon couple, which we thought was a secret. We came to my sister-in-law's- Gladys Kemp- who was a farmer's wife in Tenbury Wells, Worcs. My husband was born and brought up in Tenbury. His father was a wholesale fruit merchant and managed The Crow Hotel. He, himself had been born at The Bell Hotel, Broad Heath. Once when Edward, Prince of Wales and Princess Alexandria were at Whitley Court visiting the Dudleys, Mr J. H. Graves took them a basket of Princess Pippin apples and he was allowed to put the Royal Crest on his hampers. He invented a rubber mat to put on carriage steps.
Gladys Kemp.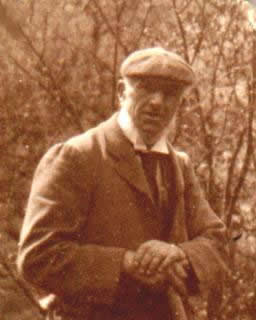 Thomas Henry Graves.
Lion's family could not have been more hospitable and made me feel at home. He had many friends from as far back as school days. He was a keen sportsman, played soccer, cricket, golf. When he retired in 1935 he was a senior postmaster.
Lion went back after our leave and was posted at Ginja, Uganda and I stayed behind as I was expecting our first child. He was born in a nursing home in Harriot Street, Glasgow. I stayed with my cousins Fanny and Sissy and had a very happy time. I took Lionel out to Uganda when he was about 8 months old. Lion met us at Mombasa. We went by train to Kisumu and then by boat across Lake Victoria to Ginja. Our house over-looked the lake and golf course and hippo occasionally wandered round the buildings. The lake was full of crocodiles. The social life at Ginja was of a high standard and time passed very quickly. One night we went for a mid-night picnic on the banks of the Nile. The Prince of Wales (later Duke of Windsor) came up to Ginja in 1927. He visited the golf club and played a round of golf. My husband met him as he was in Capetown that year. When I went to Ginja I had a bout of Malaria and the doctor insisted that I went to bed in the afternoons. I put Lionel on the bed with a tray of toys and lay down on the other bed. One afternoon Lionel said "Dudu Mummy" (dudu is Swahili for insects or small animals). When I looked I saw a snake crawling from under a book. I picked Lionel up and called for the house boy who rushed in with a stick and killed the snake. He told me it was a Black Mamba and was deadly. There was a nest just outside the kitchen door.
Prince of Wales later Edward VIII & the Duke of Windsor, on East African tour.
Christina and her mother Jessie Mathieson with Lionel.
When Lionel was 2 years old we left Ginja for our 6 months leave. We spent the time with relatives in Tenbury, Birmingham, Blackburn and Scotland . Although I enjoyed being home again I was glad when our time was up and we sailed back to Kenya .
Christina and her mother Jessie Mathieson with Lionel.
Jim Mathieson with his wife Marion.
We were stationed at Nairobi for the next 3 years. We stayed at a hotel in Parklands till our house in Forest Road was ready. I was then expecting Jean. The owners of the hotel were old friends of Lion's and we had a very happy time there. In Forest Road we had good neighbours. Lionel started school at Parklands. The first day his teacher said I could stand outside the door to watch how he settled down, but I need not have bothered as he was quite at home.
Lionel with ayah (1927)
Christina at the bungalow in Mombasa with Jean and a neighbour.
Jean was born at the Mai Carberry Nursing Home on 14th March 1930. She was a very contented baby, and having an Ayah, it was much easier than when Lionel was born in Glasgow.
Going back to my early days in Nairobi when I worked with Newland, Tarlton and Co. I met a friend- Jean MacClure. Her father Tom MacClure was a leading member of the Caledonian Society. He had travelled all over the world and was very interesting, never lost his broad Scottish accent. I spent a holiday with Jean at Zanzibar and went to see a ball at the palace of Sheik Ali Bin Salim where the Arabs sat round in beautiful silk robes. I always associate Zanzibar with the smell of cloves. I also had a holiday in Entebbe, Uganda , with friends I met going out on the boat and went to a ball at Government House where I danced with the Governor. The railway line had not been built up to Uganda and we crossed Lake Victoria from Kisumel to Kampala.
I had an experience of standing in the way of an ant safari just outside the house and had to rush indoors, undress and throw my clothes out of the bedroom window. We also had a safari right through the house. After a three year tour in Nairobi, we had six months leave and returned home. Lionel was 6 years old and Jean 2.
 Then we were stationed at Mombassa, which was very pleasant. Lionel had started school in Nairobi. He learned to read very quickly. He went to school at Nebura- over 200 miles upcountry. The train took a day and a night to get there. We went bathing most days sometimes before breakfast, went by car to the lighthouse and one day going down the steps to the beach saw an iguana. Jean learned to swim when she was 3 years old and would die in and stay under the water for quite some time. The water was lovely and warm and I learned to swim. We used to go by boat over to English Point on the mainland where the Prince had a swimming club and we could have picnics there. I remember seeing dhows coming in from the Persian Gulf with loads of carpets. Had to go through Indian streets an we passed Fort Jesus. The Marshalls who were in residence there were great friends of ours and we spent many happy times with them. They had one son a bit older than Lionel. One evening we called and the prisoners where asleep in open barred cages. Mr Marshall said "that one is for the high jump tomorrow". The gallows were right at the top of the prison.
We were very sorry to leave Mombassa in July 1935, the post office staff presented Lion with a silver cigarette case. Many friends saw us off on the boat and it was hard to believe we were leaving Kenya for good.
We looked around for a place to settle and rented a bungalow at Welford-on-Avon where Lionel and Jean went to school. It was Jean's first school and she settled in well. Lion's sister- Louise- offered us her house in Tenbury and we decided to go there. I think Lion always had a yearning to get back here. He heard that the Market Tavern wanted tenants and we took it on. I enjoyed the life and meeting the country farmers and workers. Wish I could remember a lot of their quaint sayings.
The Market Tavern, Tenbury in 2001
We stayed three years at the tavern. Lionel and Jean went to Tenbury School and then Lionel went to the King's School, Worcester. When war broke out Lion joined the Observer Corps. We had a little evacuee from Liverpool, Edna. She was not quite five and a very lovable child. Unfortunately her mother took her back after a year and after a blitz in 1940 she and four others were killed in a cellar from a landmine. Her auntie still keeps in touch with me.
We bought 'Longfield' in Burford, Tenbury, in 1939 and were there for 25 years. Lion loved his garden and orchard and visited his friends at the "Rose and Crown". He played golf at Ludlow and won a few prizes. Also enjoyed going to the races and to cricket matches at Worcester.
Lionel Graves
Longfield, Burford, Tenbury.
I always had my annual holiday in Scotland and Lion went with friends for a golfing holiday.
Jean went to Ludlow Girls School and stayed as a weekly boarder with Miss Williams. She came home for weekends, Jean has always had a good voice and been keen on entertaining. She joined the Operatic Society. Lionel joined the Army in Sept 1944 and was sent aboard but fortunately the war finished and he was sent to the middle east and joined the Educational Corps. When he was released he went to Durham University to train as a teacher, after doing a short spell at Lindridge School. He married Diana in 1953. He is now headmaster of Hallow C of E School.
Jean & Mike Harrison's wedding.
Lionel (Back row 1st on the left) at Lindridge School.
Percy Mallen, Lionel E., Christina, Lionel M., Diana, Denis Walters, Elsie Walters and Betty Walters.
 Jean went to Bristol University and got a B.A. degree, she is now Deputy Head at Tenbury High School. She met Mike Harrison at Bristol University. They married in 1952, and have two daughters. Gill is in Canada . Tina is studying to be a teacher at Keele University. She married Guy Briggs a fellow student on 18th August 1979. Guy is studying research and has got his B.A. and Tina hopes to get a B.A in History for teaching next year. They are both at Keele University.
Lionel's Richard is at Cardiff University studying engineering. Jane is now a State Registered nurse.
I am only sorry that my husband is not here as he was so interested in their progress. Unfortunately he died suddenly in August 1972. He had shingles in his head two years before and never got over it. He was one of the straightest men I have ever met and every inch a gentleman.
 In my reminisces I omitted to mention my friend Katie Couston. She was my pal at the Grammar School. Her father was a grocer in Musselburgh and became friendly with Andrew Carnegie, who gave him a writing desk inscribed with his name. I had another very good friend at the Grammar School- Lily Young. Once I was staying with her when Lionel was a few months old. I was bottle feeding him and he chocked and went blue in the face. I panicked and Lily took him from me, held him up by the feet and patted his back and he suddenly started to cry.
I had one or two shocks with Lion. One evening in Nairobi he was coming home from a neighbour's in Forest Road. It got dark at around 6 pm. A passing lorry had stretchers sticking out. He was walking along the verge when he was hurled into the ditch. We had nurses living next door and they took him to hospital where he had stitches in his head just above his eye. Then here in Tenbury he was coming home from golfing at Ludlow when a drunken driver with a trailer ran into his friend's car and knocked it over. Lion was lying under the car and passing motorists managed to lift it in time to save his life. He was taken to hospital with broken ribs. Funnily enough his brother Tom in South Africa had been to a Christian Science meeting and foretold the accident.
Going back to our courting days in Nairobi. One evening we were walking round Government House grounds. It was at the time when lions were coming into the town and we started joking about what we would do if we met one. The Governor kept a small zoo for wild animals in the grounds. We heard next day that they had been seen prowling round and an ox was killed just outside Lion's mess.
 My Mother used to tell us about a Shetland woman- Betty Mourat- who was sailing on a boat to one of the outer islands to sell her wooden goods. They ran into a storm and the captain and mate were washed overboard. She was in her cabin and the boat drifted in very stormy weather till it ran ashore at a small place in Norway . The British Embassy made a big fuss of her and when they brought her home she stayed in Edinburgh and people crowded to see her. She was presented to Queen Victoria and there was a book written about her experiences. Mother met her when she came back to Shetland.
My mother had strong religious beliefs and read her Bible every day. She was very humble and did not like to be praised. Father was the hard Victorian type and never showed his feelings. My brother Jim married late in life after he came back from the war. Marion was a wonderful woman and a great comfort to my parents in their old age.
Jean and Lionel are both blessed with good singing voices and Jean has always been keen on entertaining.
Lion was chairman of Burford Parish Council and the school board. His hobby was studying wild life and he had a wide knowledge of birds and their habits.
While we were stationed at Mombasa we had invitations to functions such as an "At Home" on H.M.S. Hawkins, a reception at Government House on the celebration of the birthday of his majesty the king on 4th June 1934. The Holland Africa line "Ja gersfontein" to a lunch, to a dance at Government House on 18th August 1934, an "At Home" at H.H. the Agakhan Club, Kilindini Road on 9th June 1934 to celebrate the birthday of His Highness Mahomed Shah Agakhan. We were also invited to dine on a Swedish luxury cruiser doing a world tour. It was painted white and designed like a floating castle. The stewardesses were titled ladies and it had a post office on board. The postmaster asked us to dinner one evening and we had a wonderful meal.
 Jessie and I went on a few coach tours in Scotland . We did the west coast to Oban and sailed to Iona another year to Shetland, sailing from Leith and stopping at Aberdeen, Kirkwall where we went on a tour round Orkney, to Scapa Flow and the Churchill Barrier. Then on to Lerwick where we stayed a fortnight and toured the island. Another tour was to Skye crossing the Kyle of Lochlach and saw Dunnegan Castle.
Before finishing I would like to say a few words about my cousin- Fanny Begg. We were great pals as long back as I can remember. She went into teaching and eventually became headmistress of Toryglen School in Glasgow. We had holidays together and were very close.
 I can remember when I was young we were waiting for my father coming home from Edinburgh on his lorry and he was very late. I suddenly said to my mother "I think he has had an accident". She mentioned it afterwards when the police came and told her. He lived to be 90 and I can never remember him having an illness. Had his own teeth and good sight. One Christmas before I married, I went for a holiday with friends, the Kennedys, who came to Nairobi from Haddington and Jimmy worked for Newland Tarlton. We spent a night at Ruiru at Blue Post House then on to Thicka and then Nanyuki at the fort of Mt Kenya . The hotel was run by Coma/Hook.
            Have just been listening to the wireless and the talk was about life in East Africa by the authoress Baroness Von Blixen. It brought back memories. She lived near the Nigong Hills and was divorced. The Hon. Dennis Finch Hatton was a neighbour. He was a partner with the firm where I worked, and often came into Nairobi and called at the office (Anglo Baltic Timber Company). We got quite friendly and I thought he was a very nice gentleman. The Baroness was very much in love with him but they never married. He piloted the Duke of Winsor while on safari. Unfortunately he died in a plane crash.
Tina and Guy have graduated and both been lucky in getting post. Tina at Stanford, and Guy at a school for retarded children at Grantham, Lincolnshire and have been able to buy a nice bungalow between the schools. Guy got his MA.
Jill lives in Toronto, Canada and has a lovely little girl, Mindy Claire, 2 years old in November.
It is now 1984. Lionel took me up to Scotland 2 years ago and we had a wonderful time. We went during his Easter hols and had only two weeks. Went to Mary Skinners at Prestonpans and then up to my cousins Charles and Netta Alexander in Caithness. And had some lovely runs to John O'Groats, Castle of Mey, Canisbay, and Freswick. On the way south we called on Billy and Myra Biakie at Forfar and Billy's mother Meg (my cousin) at Kirriemuir, then on to Netta's family, Pete and Pat Alexander who farm at Blairgowrie. Back to Prestonpans spent a day at Inverkeithing with Hugh and Myra Rodger (cousins) and a day in Musselburgh, visited Katie Knight and Chrissie Orr. It was lovely having Lionel to look after me. This year at Easter we repeated the trip and again had a marvellous time. Netta took us to the church at Canisbay and in the graveyard we saw the stone erected to my mother's uncle, pay master to the Royal Navy. He used to come up to visit his mother and now his son is a pay master in the Navy and still comes up to Caithness.
Jill and Mindy arrived home from Canada on a visit this morning 13th July. They are staying 5 weeks and we (Jean, Jill, Mindy and I) are going to St Ives, Cornwall for 2 weeks on 3rd August. Mindy is a dear little girl with lovely eyes and a sweet nature. It is wonderful seeing them again. Jill has passed most of her exams for a state registered nurse. She loves the work and should do well.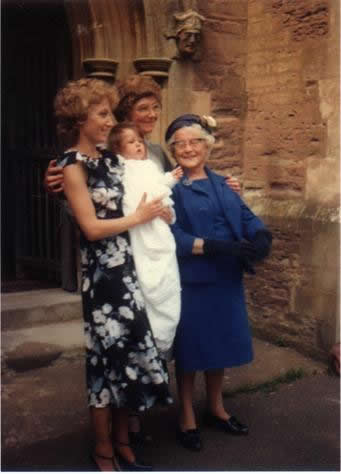 Jill, Mindy, Jean and Christina.
Christina and Mary Skinner and the site of Cuthill, Prestonpans.
Billy Baikie and family.
From left to right: Alex, Myra, Kenneth, Christina, Donald and Billy.
Charles Alexander and family.
From left to right: Bill, Graham, Netta, Christina, Charles and Alistair.
Peter Alexander and family.
From left to right: Pat's father, Murray, Peter, Janet, Pat and Christina.
 24/05/85 I had the most wonderful birthday party at the Royal Park Hotel. Jean and Lionel did a marvellous job took lots of pains organising. We had a little orchestra and they played all the lovely old tunes and songs. Susan from 'Longfield' played the violin. Jean sang "the second minuet" and "My Ain Folks". Lionel did a "This is your life" much to my surprise. I had a telegram from Jill and Mindy at the Park and on the 12th one from Gladys South Africa, 60 lovely cards and no end of presents, flowers and booze. We had a few old friends at the party, Harry Higgins, Joy Yarnold, Gladys Bloom, and Peter Howard and Lucy Wilding. But best of all Jane brought Jonathan 5 months old. He really stole the picture and was so good. I cuddled him and he went to sleep on my shoulder in spite of all the noise and music. Our only regret was the absence of Jill and Mindy but they are coming for a holiday in July. Mrs Strong gave a party at the Darby and Joan gave me orchids and drank my heath with a sherry.
Jean Harrison, Kay Howard and Christina Graves at her 90th party.
10/03/86 Am nearing my 91st birthday and thank God everyday for giving me such a long life with family and friends around me. I have been so fortunate. Jill passed her exams and must have done very well as she was offered a job straight away as S.R.N. at a nearby hospital. She will be perfect for such a dedicated position. We miss Mindy very much and often think of her. Jean and I went to Rochford church yesterday (Mothering Sunday) and seeing the children brought back memories of our wee lass.
The following appeared in the Tenbury Advertised on July 19th 1964? "Trip down memory lane, the decent", screening of the film 'Out Of Africa' at the regal meant a trip back in time for one Tenbury woman in the audience. For she was in Nairobi during the 1920's and met the original Dennis Finch Hatton played in the film by Robert Redford. Mrs Christina Graves of Eldoret, Burford, was a young woman working as a secretary to the Anglo Baltic Timber Co. in Nairobi in the mid 20's, the period in which the film is set. A regular visitor to the office was explorer and aviator Mr Finch Hatton "a smartly dressed, friendly and very down to earth man" who would sit and chat to Christina for hours, the two became quite good friends. I got to know him although he was really a friend of my boss and he always called in when he was in Nairobi. I was very sad when he died in the plane crash. The film is based on the story about Finch Hatton's love affair with the wife of a wealthy aristocrat Baroness Von Blixen (played by Meryl Streep) also in Africa at the time. Although I never met the Baroness we had all heard about her. The valley near Nairobi where Finch Hatton lived was nickname ' Happy Valley' – the people living there had lots of parties and there was some wife-swapping going on.
The image is borne out by the film. The Baroness's husband was frequently away having affairs.
Mrs Graves told the advertiser she thoroughly enjoyed the film which portrayed very accurately the Africa of the 20's. Although Robert Redford was totally unlike Finch Hatton in appearance, he had obviously studied him in depth because his acting did the character justice. Africa also played an important role in Mrs Graves life, for it was there that she met and married her husband, Lionel, a native of Tenbury who was working out in Africa as a civil servant.
It was he that persuaded her to give up the heat and dust of Africa for the green orchards of Tenbury and the couple returned in the late 30s with their young daughter Jean, now married to Tenbury district councillor Mike Harrison while I worked for the Grant Educational Co. Mr Grant asked me to type the autobiography of mother superior of Notre Dame College, Glasgow and she said "I did it very well, considering I was not a Roman Catholic."
Email: Lionel Graves (lionel@graf-tek.com).
Copyright ©2000-2008 L.Graves. All Rights Reserved.